The Institute of American Indian Arts launches graduates into positions of power
ART MATTERS BY CHRISTINA PROCTER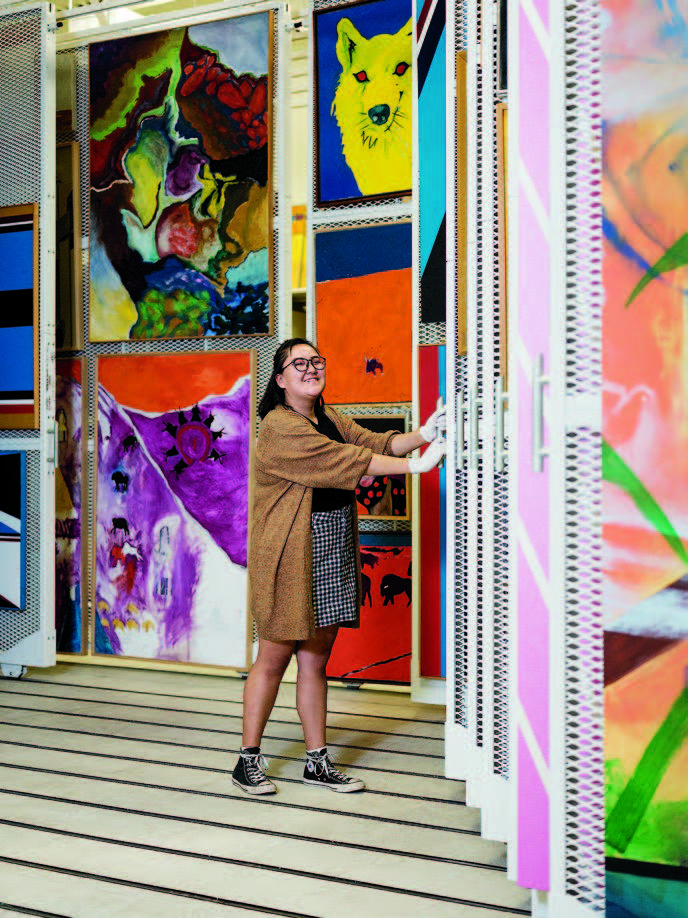 IAIA." She is viewing a belt by Denise Wallace (Chugach Aleut) made of ivory, gemstones, and silver. Top: Students have access to thousands of artworks in the IAIA collections. Shown are paintings and mixed media works by Tony Abeyta (Diné), Frank Day (Maidu/Konkow), Harry Fonseca (Maidu/Hawaiian/Portuguese), David Montana (Tohono O'odham), and Phyllis Noyes (Colville).
In the 1860s, the great-grandmother of Darvin Descheny (Diné) joined thousands of other Navajos who were forced to endure the 400-mile trek now known as the Long Walk, which led them from their homes in what is now Arizona to eastern New Mexico. Thousands were displaced and some 200 people died during the arduous journey, but Descheny's great-grandmother not only survived but even managed to bring some of her weaving tools with her. These were eventually passed down to Descheny's mother, who taught her son to weave traditional rugs on a standing loom and brought him with her to art markets throughout his childhood.

Now in his early 20s, Descheny is an artist who is pursuing a career in museum administration, and he says that the family and tribal stories he grew up with are a key part of his work. His own art is multimedia and conceptual, like a canvas of cigarette butts or Walmart bags, reflecting his simultaneous repulsion by and participation in consumer culture. Descheny, who grew up attending the Museum of Northern Arizona's Navajo festival each summer with his family, recently graduated from the Institute of American Indian Arts in Santa Fe with a bachelor of fine arts degree in museology. Now he is back in his home state as a program manager at MNA, the first Native to fill this role.

Long celebrated for having one of the country's first museology departments, this year IAIA was accredited to offer a graduate degree in the field, adding to its existing master's programs in creative writing and studio arts. The MFA program in cultural administration begins in summer 2022 with an incoming class of about 20 students. This new graduate program is the logical next step in the Institute's evolution. IAIA started 60 years ago as a high school with a post-secondary art program sharing the grounds of the Santa Fe Indian School. In 1975 it became a two-year college, and in 1992 the Institute's museum was renamed the Museum of Contemporary Native Arts (MoCNA) and relocated to the Santa Fe Plaza. In 2000, IAIA achieved full accreditation and started its bachelor's degree programs, having moved to a sprawling 140-acre campus south of Santa Fe.

There, the under renovation Research Center for Contemporary Native Arts gives students access to an extensive archive as well as MoCNA's collection of 9,000-plus items. Offering hands-on experience, small class sizes, and community-based research, the program is designed to prepare students to work within museums systems—and to change them.

The new graduate program is headed by Dr. Jessie Ryker-Crawford (White Earth Anishinaabe), a longtime IAIA associate professor and an alumna herself. Over the years, she says, she has seen museums transform how they represent Native art and culture. She recalls a museum job she took soon after she graduated. "They said, 'You're Native American, can you look at this for us?' It was a medicine bundle that had been opened and displayed on a tray. I almost fell over backwards. I said, 'I'm not even supposed to look at this. Who opened this and why do you have it in your collection?'"

Along the same lines, Descheny recalls that even as he fell in love with museums as a kid, he also grew up seeing gross misrepresentations of Native cultures. "I saw exhibitions with 'Wild West Indians,' you know, romanticized versions of Natives that don't show us still here, living and breathing." Unfortunately, this is a common experience for Native peoples, who have long seen their art and cultures looted or misrepresented in ways that misinform the public and reopen old wounds.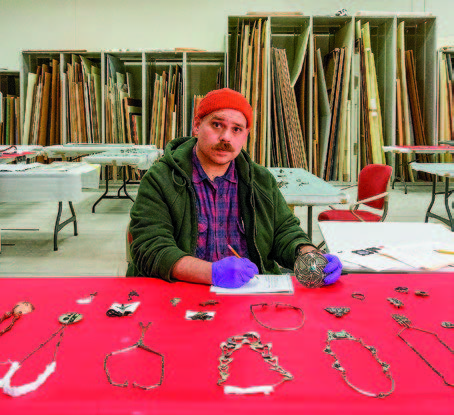 Yet Ryker-Crawford acknowledges that many museums have made significant efforts to broaden their focus and, when necessary, to repatriate the items in their collections. Descheny concurs. "I've seen this change in my lifetime. Museums are taking a more ethical approach. They're approaching community leaders and working collaboratively. It's cool to see these changes happening around me as I'm working in the field."

But much remains to be done. "Our founders realized that we were not going to be able to support Native American artists unless we had our people working in museums and galleries," says Ryker-Crawford. At IAIA, the solution has been to train graduates to work in museums and cultural centers and bring an essential Indigenous focus. This means avoiding top-down decisions, seeking consensus, and working closely with Native communities. When it came to creating a new curriculum for the graduate program, Ryker-Crawford and her colleagues consulted tribal leaders, students, and alumni—Descheny included.

Ryker-Crawford notes that while IAIA undergraduates are prepared to lead museums and cultural institutions, she says that MFA graduates will have even greater opportunities and higher salaries. More importantly, they will be better equipped to help museums continue to change from within.

"We're rethinking administration through an Indigenous lens. That means listening to constituents' needs and turning our expertise to grassroots projects. It's about cultural support, and we need to do that from the ground up," Ryker-Crawford explains. "Our idea of administration is less about the individual being an authority figure and more about being a leader by being a support system to the community. We require the students to return to the community—rural or urban or tribal—and to work very closely with members to come up with a project that is the community's."

Associate Professor Mattie Reynolds (Choctaw) says that with this preparation, graduates head in one of two directions. "About half of our students return to their communities, and they are active in tribal museums or cultural institutions. The other half are going to those big-name institutions . . . like The Met and the National Museum of the American Indian (NMAI)." In fact, alum Cynthia Chavez Lamar (San Felipe Pueblo/Hopi/Tewa/Navajo) became the Smithsonian Institution's first Native woman director when she took the helm at NMAI this year.

Meanwhile, Descheny recalls a critical lesson he learned from Ryker-Crawford: "She taught us to have a plan, but to be flexible—like water." Now he orchestrates MNA's annual Heritage Festival, which replaced the separate Navajo, Hopi, and Zuni festivals two years ago. The festival includes art, market wares, dances, and lectures by participants from the three larger nations as well as the Acoma, Apache, Havasupai, Hualapai, Pai, Ute, and Yavapai. "It's the first time I've done something on this scale," says Descheny. "That's why I like IAIA. They taught us how it would be. We learned to expect museums to be underfunded and to find creative solutions."
Hired during the pandemic lockdown, Descheny says that his training in digital exhibition design also came in handy. In fact, he attributes many of the positive changes he's seen in the field in part to the rise of social media platforms in the 2010s. "For the first time, you had Native artists curating their own galleries on Instagram," he says. "In the past, researchers camped out at Hopi Mesa or went to Monument Valley to meet some Navajos—but now we're just a click away. If you're a curator, you find source material just scrolling through Instagram. That's helping to decolonize the way museums function and how they represent who we are."

The force and potential of social media, which immediately became apparent during the pandemic lockdown, have fundamentally changed how museums engage with audiences. Reynolds teaches a course on digital exhibition design, and she says that IAIA is at the forefront of new methodologies to prepare students for the museums of today and tomorrow. "You see a movement happening now away from tribal museums toward cultural centers," she says. "You know, language courses, dances, feasts—it's been a long time coming."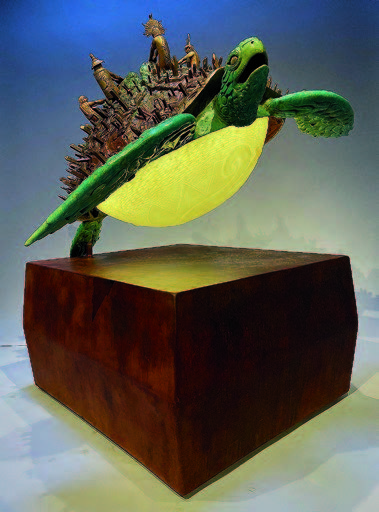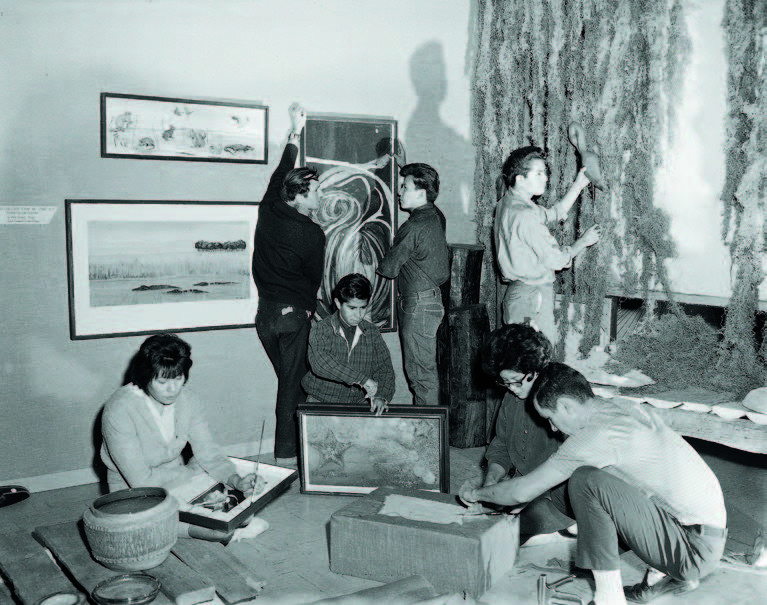 Karl Duncan grew up in Mesa, Arizona, and is San Carlos Apache on his father's side and Arikara, Hidatsa, and Mandan (indigenous to what is now North Dakota) on his mother's. After graduating from IAIA in 2009, Duncan worked on collaborative community projects with various institutions, including Brown University, before becoming executive director of the Poeh Cultural Center at Pojoaque Pueblo in 2015. Operating as much more than a museum, the center has become a community hub and was particularly crucial when the pandemic hit.

Reynolds says that the accomplishments of IAIA alumni are part of a global transition. "We see people of color and minorities much more actively involved in telling their own stories in museums. Our program prepares students to be a part of that change."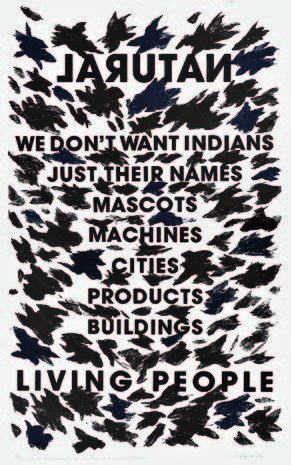 Image Key for top image:
Dr. Robert Martin (Cherokee)
Patsy Phillips (Cherokee)
Jon DeCelles (Gros Ventre/
Assiniboine) '85
Golga Oscar (Kasigluk Traditional
Elders Council) '20
Raymond Nordwall (Pawnee/
Ojibwe)
George Alexander (Muscogee
Nation) '15
Dyani White Hawk (Sicangu
Rosebud Sioux) '08
Jim McGrath*
Otellie Loloma (Hopi)*
Patricia Michaels (Taos) '89
Fire Dancer, MoCNA Collection**
Erika Knecht '20
Jody-Kaa Folwell-Lazaro
(Santa Clara) '18
Papa, MoCNA Collection***
Kathleen Wall (Jemez) '14
Fritz Scholder (Luiseño)*
Rose Simpson (Santa Clara) '18
Roxanne Swentzell (Santa Clara)
Pilar Agoyo (Ohkay Owingeh/
Cochiti/Kewa) '89
Dr. Jessie Ryker-Crawford
(White Earth Anishinaabe) '00
Portrait of Charles Dailey
Topaz Jones (Shoshone) '11
Daniel McCoy, Jr. (Potawatomi/
Muscogee Nation) '16
Terran Last Gun (Piikani) '16
Robert Gress (Absaloka Crow) '88
George Rivera (Pojoaque) '84
Stephen Wall (White Earth)
Del Curfman (Crow Nation of
Montana) '17
Cannupa Hanska Luger
(Mandan/Hidatsa/Arikara) '11
Jim McGrath
Cara Romero (Chemehuevi) '05
Diego Romero (Cochiti) '86
Manuelita Lovato (Santo Domingo)
Linda Lomahaftewa
(Hopi/Choctaw) '65
Robyn Tsinnajinnie (Diné) '20
Layli Longsoldier (Oglala Lakota) '09
Anita Fields (Osage)
Joy Harjo (Muscogee Nation) '68
Dan Namingha (Hopi/Tewa) '69
Charlene Teters (Spokane) '86